For new systems, the network settings on the Mirai Training app will be key to success installation. These values are what determine communication between the Mirai Controller PC, the robot, and the Force torque sensor compute box.  
Step 1
Enter the Settings menu on the main menu (top left corner), by selecting Settings.
Step 2
The components and the devices need to be connected in the same subnet. In the Robot network settings section, enter the IP address of the robot that you are using to train MIRAI skills. For more information on which IP addresses you should enter, check this article: Network Settings - IP Addresses

Step 3
When the IP address of the robot has been entered, the first three IP text-fields are automatically updated for the MIRAI controller and the F/T sensor(s). Next, assign the remaining fields accordingly. Make sure that your connected F/T sensor is also in the correct subnet and has the correct IP address.
Step 4
Review your configurations and then tap on 'Apply Settings'. Tap on 'Yes, apply' to confirm the settings.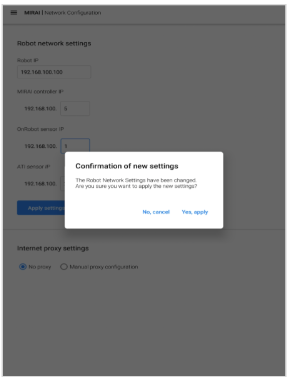 Step 5 (Optional)
In case your IT security team requires the use of a proxy server, use the following settings to connect the MIRAI controller to the internet.
Select 'Manual proxy configuration', and then enter the address and the port in the indicated format. Please ensure that the proxy server settings are correct as otherwise MIRAI will not connect to the internet resulting in connection error messages.
Video Tutorial: