The MIRAI UX1 kit includes key components that are required to set up the MIRAI robot control subsystem for a FANUC. The following components are included in the kit: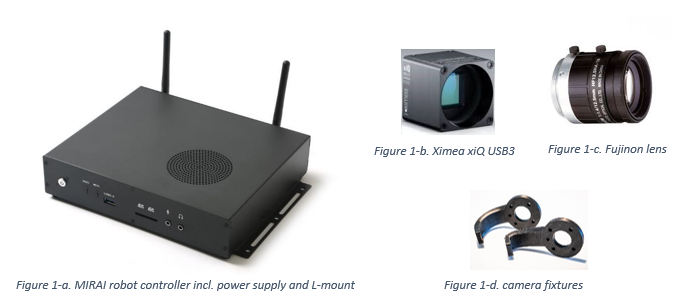 Scope of delivery:
1x MIRAI UX1 robot controller (Figure 1a)
1x L-mount for MIRAI UX1
1x universal AC power supply, DC19V/120W
1x AC power cord for EU and US region
2x wireless antennas
1x Ximea xiQ USB3 camera (Figure 1b)
1x USB3 cable
1x Fujinon lens 1 (Figure 1c)
1x Fujinon lens 2
2x Camera fixtures for the robot arm (Figure 1d)
4x M-6 mounting screws (included with the camera)
4x CBSTSR6-16 screws to mount the fixtures
1x USB drive with the MIRAI Training App, SETUP.CM and MIRAIEXECUTE
Furthermore, the following system components are necessary for a minimum MIRAI controlled robot setup:
FANUC robot arm and control system (CRX10iA/L) with the R-30iB Plus Mini controller: minimum software versions required for FANUC robot control: V9.4
FANUC Tablet Teach Pendant (FANUC Tablet TP)
Important: The following software options are prerequisites that need to be installed on the FANUC robot controller:

R739 Dyn Path Modifier: R739
R648 User Socket Msg: R648
J742 Customize support function: J742
US customers: R632 Karel + R553 HMI device (This function allows an HMI Device to monitor and control data remotely [from] within a robot controller. The robot communicates with the remote HMI by using the same drivers and addressing as a GE Fanuc Series 90 PLC.)
EU customers: R651 FRL Params (already shipped with EU FANUC robots)

OnRobot HEX-E v2 or QC force/torque sensor or
ATI F/T sensors supported models

All ATI sensors that support Network Force/Torque (NET F/T) system (tested with ATI-9105-Net-Gamma)
ATI Axia80-M20 with adapters
We

do not

recommend using ATI Schunk F/T Sensor at the moment

Ethernet Gigabit switch (1GB per port, full duplex)
Android based 10" tablet running Android 6 or higher
An external lighting solution for cameras is recommended to ensure constant lighting conditions during recordings. We recommend Effilux ring light for your setup.